The Send Email action allows you to send an email at the completion of your survey to respondents, colleagues, yourself or anyone else you see fit to notify! This action gives you the flexibility to customize what is sent; from a simple notification of a survey response to a full PDF review of responses with links to any uploaded files.
You can use the Send Email action to send your survey respondents a quick thank-you message, a follow up on negative customer experience, or simply mail a copy of the survey results to yourself... and that's just scratching the surface.
Best Practice Tip
The Send Email action works best on the Thank-You page since it can reference all data collected in the survey. If you wish to include response data in your email, you must place these actions on pages that follow questions you want to include.
Setup
1. Add your Send Email action to the appropriate page on the survey.
More often than not you'll want to set up an email to send at the end of your survey, once you've collected data. For this reason, we added the Post Survey Actions to the Thank You page of all surveys! Simply check one of the Send Confirmation Email options.
Send Confirmation Email to: Me - This option pre-populates the recipient name and email with your login email address and screen name. The message body will also be populated with a link to your Individual Responses in your survey.
Send Confirmation Email to: Respondent - Select to get started customizing the email you wish to send to the respondent.
You can also add a Send Email action to the Thank You page or any other page of your survey (except the first) by clicking Add New Action at the top or bottom of any page. Then, select Send Email, name the action then click Save Action and Edit.
2. Set Up Your Recipient Email Address and Recipient Name
If you began by checking the option to Send Confirmation Email to: Me,these fields will automatically populate with the contact information from your account settings. Of course, you can change these as needed. We recommend adding no more than 5 recipient email addresses.
3. Set Up Your Senders Email Address and Sender Name
What is entered here will display as the from address and name in the message. These fields will be populated with noreply@surveygizmo.com in the email address field and SurveyGizmo in the name field but you can change this to whatever name and address you wish to display.
Consideration: When Changing Sender's Email Address
If you modify the sender's email, you'll notice the yellow warning that appears below. This is because customizing the from address may significantly affect deliverability. This is because the emails are still sent from our servers and they are masked to appear to be coming from the specified email address. Depending on the email client this can look suspicious and could possibly be blocked altogether.
Further, it is not recommended to set the From Address to a domain that you do not control. @yahoo.com, @hotmail.com, and @gmail.com, in particular, have implemented rules that tell other email providers, "reject any message that says it is from @Yahoo.com unless it comes from a Yahoo! email server." Other email clients may be more forgiving, but will still likely cause your message to end up in the spam folder.
Finally, if the recipient's domain and the sender's domain are the same this can also cause the email to bounce.
Using a private domain that you control, and setting up the appropriate SPF Record, is best if you would like to change the From Address.
A Safer Alternative: Change the Reply To Email Address in Send Email Actions
To ensure your emails get where they are going we recommend leaving the Sender's Email Address as noreply@surveygizmo.com and instead use the Reply To Email Address at the bottom of the panel for customization.
Using the Quick Links to Populate Address Fields
If you click the Survey Taker link just below either the From or Send Address Fields, the below helper will pop up allowing you to select questions in the survey where you've collected an Email Address, a First Name, and a Last Name.
When you click Save, the fields will be populated with merge codes that will dynamically populate with the email address and name as entered in each response. This allows you to send to a different recipient for each response, e.g., the survey respondent. Check out our Email a Survey Respondent a Copy of Their Response Tutorial for more info!
4. (Optional) Set Up Your Reply To Email Address and Name
The default Reply To Address and Name will be noreply@surveygizmo.com and Survey Research respectively. Messages sent to this mailbox cannot be retrieved though; so, if you wish to receive any replies, you can specify a different Reply To Address and Name. This can be different than what is set up in the From Address and Name fields. This is especially useful when the person who will follow up with respondents is not necessarily the person from whom the email should appear, i.e. a teaching assistant responding on behalf of a professor.
5. (Optional) Set Up BCC
To BCC multiple email addresses, simply comma separate them with no spaces. If an email fails to send in this list, all emails that follow it will also fail, so make sure to triple check your addresses!
6. Customize Your Email Subject
You'll most likely want to customize your email subject. You can use merge codes in the email subject to dynamically populate with the answers from the survey response itself. The easiest way to set this up is to use the merge code helper that is available in the message body to find the merge code for the survey question/s you wish to use in the email subject. Check out this quick demo of adding merge codes to the email subject:
7. Customize Your Message Content
The default Message Body will contain some instructions and sample text that you will want to delete. Then, begin customizing your message.
Be sure to take advantage of the Insert Merge Code link, to the lower right of the Message Body, to introduce values entered in the survey response in your email messages.
For example, say you want to include all the answers in your message content. All you need to do is click Insert Merge Code below the message. The Merge All Questions option will include the text and the response that was entered for all the questions in your survey in the message body.
If you only wish to include a question or two, select the survey question in the dropdown menu, place your cursor in the message body where you wish to add the question and click Insert.
Finally, you've been working on customizing the Text Version of the Email. This is all you really need in order to send an email but, if you wish to format your text, e.g. use italics, font colors, bulleted lists, etc., you'll need a little HTML to set this up. To send an HTML version of the email, click the HTML Version link to toggle over and take advantage of the HTML editor toolbar.
You might want to copy the text from your Text Version first so that you can paste it in the HTML Version and hit the ground running.
Do keep in mind, if you are taking advantage of both Text and HTML Versions, to make edits in both places!
Applying Logic to Determine When Email is Sent
If you'd like to set up rules for when the email is sent, click on the Logic tab along the top. This is where you can set up the conditional logic that determines when this email is sent. If no logic is set here, the email sends for every response that reaches the page. Check out our tutorial on Using Logic to Send Different Email Notifications to learn more!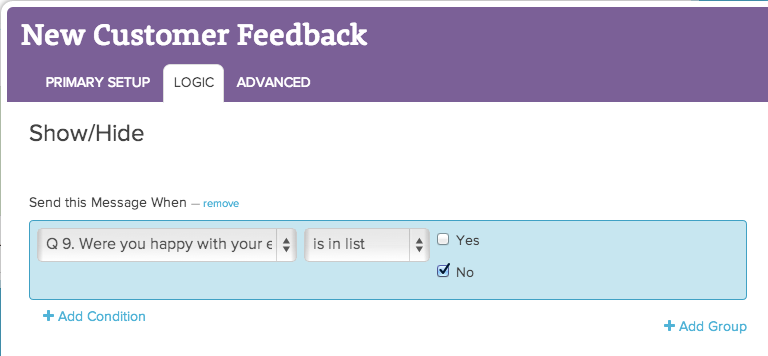 Attaching a PDF of the Response
On the Advanced tab the option to Attach a PDF Review creates and attaches a PDF file that includes either all questions or answered questions only.
You can choose to include page titles and numbers, question numbers, text elements, quiz score results and hidden values. As far as the questions that are included in the PDF you can choose the include all questions, only those displayed to the respondent, or only the answered questions.
In the PDF settings field, you can specify a file name for the PDF. The survey title will be used by default. Merge codes are supported in this field!
Set Up a Time Delay
The time delay is another popular Send Email action feature. By default, the Send Email action fires when the survey respondent reaches the page where the action is located. If you want to set a timed delay, you can set this up on the Advanced tab. You can specify +10 hours, +23 minutes, +30 days, +6 months or even +2 years! You can also specify the date when you want the action to fire by putting a date in this field using MM/DD/YYYY as the format.
Once you have set a time delay and the action has fired, this delay cannot be changed for messages already queued.
Other Advanced Options
Those are the basic features of this action, so now let's dive into some of the more advanced features you can find by clicking the Advanced tab.
(OPTIONAL) Custom SMTP Server, User, and Password: To send items through your own email server instead of using SurveyGizmo (very useful in managed IT environments where outside emails have a tendency to go directly to Spam), you will need to get this information from your IT department. Your SMTP server address will look similar to your website URL for example, SurveyGizmo's SMTP address is smtp.sgizmo.com.
In most situations, the "Senders Email Address" and "Custom SMTP User" fields will need to be the same in order for the action to work.
Send Securely (Use TLS): If using your own SMTP server, choose whether you want to send the emails securely using TLS. The default is set to No, don't.

Note: toggling the TLS setting to 'Yes' should only be done if you have configured your SMTP settings per the above step.
Include Link To Uploaded Files: If you have used a File Upload question in your survey, this option lets you include a link to download all the files uploaded to the survey.
Send each time page is hit: This option allows the action to generate more than one email if this page is displayed more than once. The default is to send one email for each response, but you might find a need for this if respondents loop back to this page due to logic set up in other parts of the survey.
Troubleshooting & FAQ
Having trouble getting the content you've created to show up in your test emails?
Make sure to double check both the Text and HTML versions of your content in your message body. If you make changes to one version, you'll also need to update the other so that they match. Most recipients will see the HTML version.

How do I know if the email was sent?
On the Details tab of each Individual Response found on the Responses tab, you will have success or fail message on the page with the Send Email action. You can re-fire the action from here.
Why are my emails not being sent?
Here are a couple of things to check for if your emails are not being sent:
Check your spam folder. Depending on your email client, messages sent from notifications@sgizmo.com might be flagged as spam. If you find messages in your spam folder be sure to indicate that they are not spam and this will likely fix up the trouble.
Check the addresses in the recipient email address field. Confirm the address themselves are correct as well as the formatting. Multiple emails must be separated with commas and no spaces.
Depending on your network security you may need to whitelist our domain in order for emails to come through. See our SPF record documenation for more info.
Limitations
Email actions can't be on the same page as the field where you collect the Send To email address.
Email action can't be on a page by itself or with just a page description as this page will not be skipped and thus the email action will not fire.