The design phase of a survey is probably the most important phase of a survey. Using Comment Mode, you can collaborate with others to ensure that you are asking the questions you need to ask to get the data you need.
Enable/View Comments
As part of Preview/Test Mode, you can turn on comments by toggling the View Comments switch. To get to Preview/Test Mode click Preview on any page in your survey or go to the Test tab and click New Test Response.
Comments can also be viewed on the Build tab. Go to View Settings in the upper-right corner and select Question Comments and click Apply.

Leaving Comments
Comments can be left on the page or on individual questions. Click to add a comment. Enter your comment text and indicate whether you would like to comment to be internal (visible to other SurveyGizmo users only). Customize your name and email address if you wish and click Add Comment.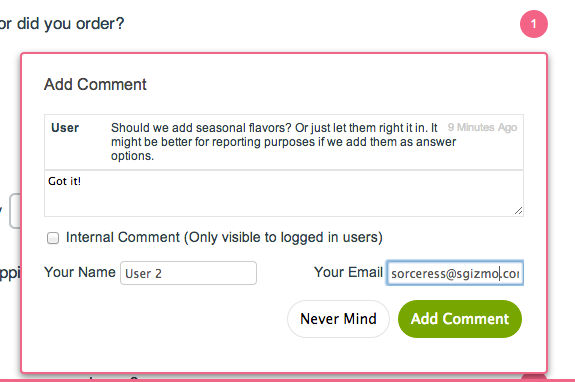 Inviting Others to Test
You can solicit comments from colleagues or others by sharing a test link to your survey. This link can be accessed via the Test tab of your survey.
Once on the Test tab, click the button to Invite Others to Test.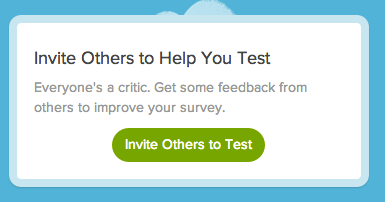 Invite by Email
If you choose to invite testers via email, start by customizing your email subject and message and enter your recipients one per line. If you'd like to allow your testers to leave comments, check this option. By default, the from email will be the email you use to log in; you can customize this if you wish. Finally, if you want to receive email notifications to this email address check the option to Send me email notifications on new comments.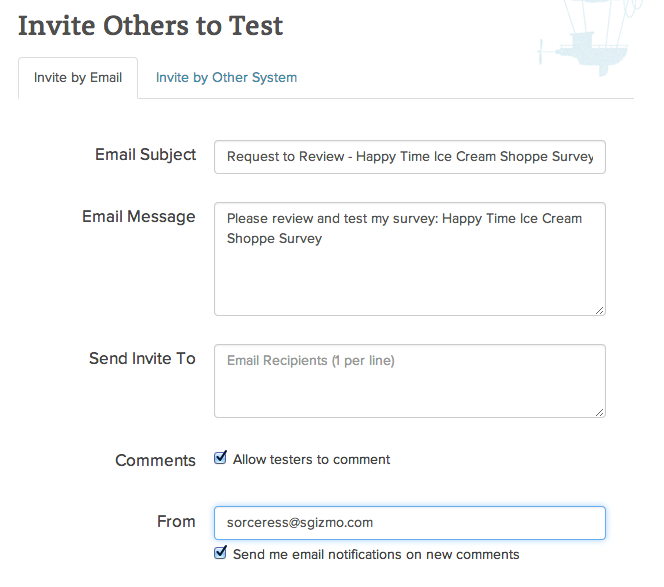 The below email will be sent inviting recipients to review and test your survey.

Invite by Other System
If you prefer to share the testing link via your email client or another system, click the Invite by Other System tab. Your testing mode link can be copied to share. Before you do so, indicate whether you wish to allow testers to comment and whether you wish to receive email notifications (this will send to the email address that you use to log in.)