Whether you are looking to make a couple of style tweaks or a lot, creating a custom theme is the place to do it. Custom themes are saved in your Survey Themes library and can be used easily applied to your surveys.
To get to your Survey Themes library click Account > Libraries > Survey Themes. To get started click New Theme. This will bring you to the custom theme editor. It will load a template survey that you can fully customize! To learn more about building custom themes check out our Build a Custom Theme Tutorial.
Organizing Themes in Folders
Once you've created several custom themes you may want to start organizing your theme library. You can create folders simply by clicking New Folder. Then drag and drop your themes to start organizing your library.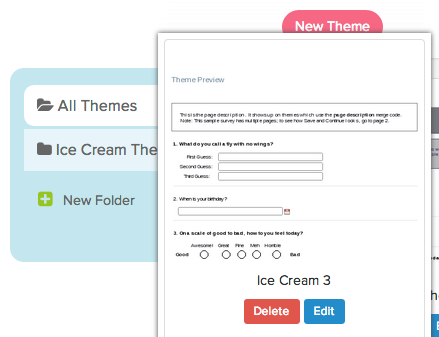 The last viewed folder will be saved for your next log in.